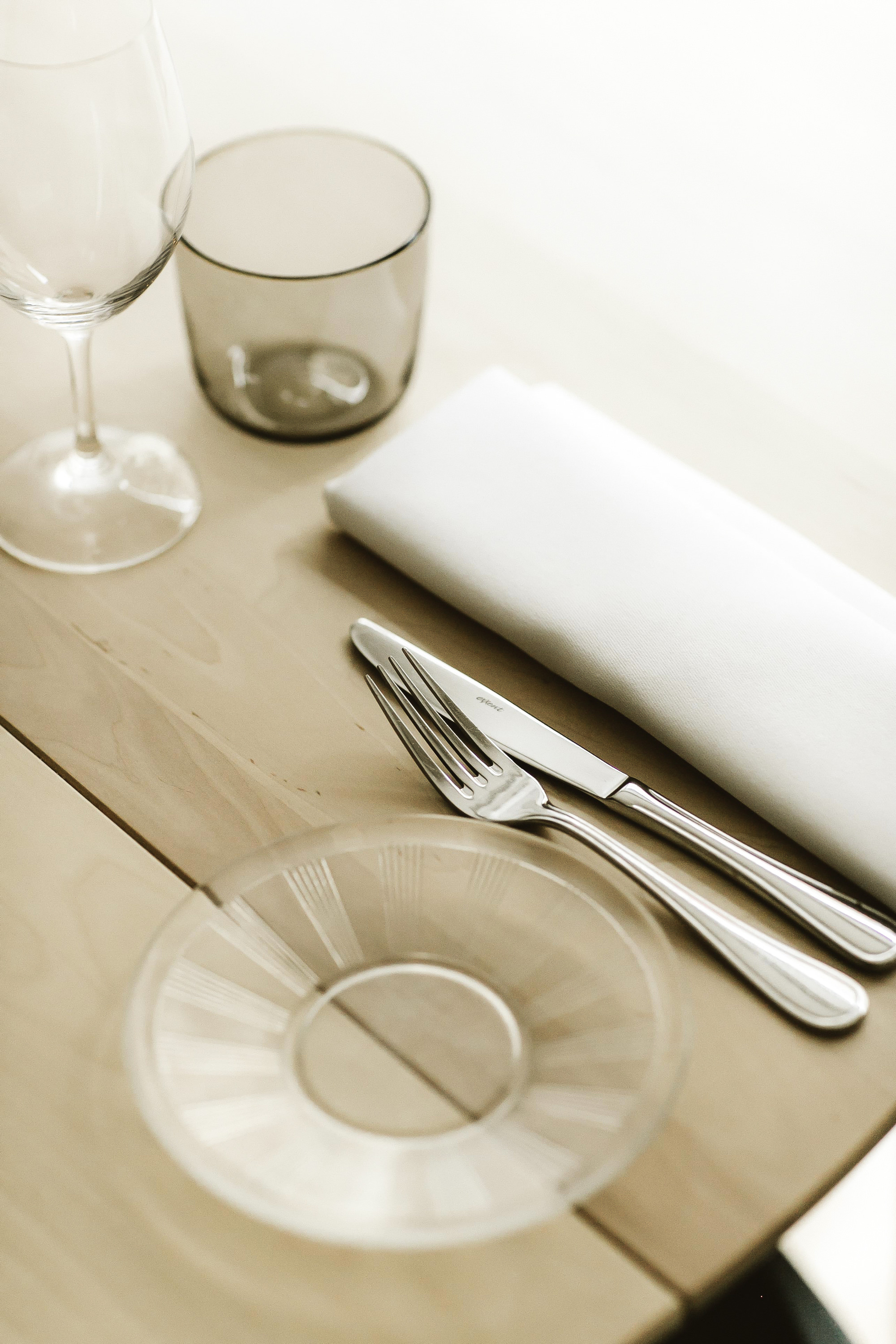 INTERVIEW WITH SOPHIE ANDERSSON AND OLLE AHNBERG, OWNERS OF VÄSTERGATAN.
Since meeting in Gothenburg, chef Olle Ahnberg and sommelier Sophie Andersson have built up a reputation for creating a memorable dining experience. After their first venture together at a summer tavern in Österlen, they have now brought their talents to Malmö. Västergatan has gained a reputation for its seasonal menu with a strong west coast vibe.
What's the story behind Västergatan?
Sophie: It all started in Gothenburg, where we met while working at Sjömagasinet, one of the biggest seafood restaurants in Sweden. Olle had been a chef there for a few years when I got a job on the side of my studies. We started talking at an afterwork on my second day...
Olle: After working at the same place for six or seven years, I felt ready to leave Gothenburg, and decided to move to Ystad, where Sophie's from. I spent a few years freelancing, worked on some cookbook projects, took part in a TV programme, catered for weddings and taught cooking courses. In 2013 we stumbled upon a seasonal place in Österlen, a little restaurant seating around 30 people in the middle of a corn field.
Sophie: The neighbouring farm delivered vegetables and we had a dairy producer nearby - it was a very inspirational place. We ran that place for two years, but felt a bit limited because the season was so short and the idea about running a more permanent place was born.
Olle: We wanted something we could control completely and wanted to try to do it in a more vibrant city. We had already started the concept in Österlen and decided to move it to Malmö when we found this venue.
Your restaurant is named after the street it's located on. How did you end up at Västergatan?
Sophie: We were looking for a place and found this on Blocket by coincidence. There used to be another place here, Tryne till Knorr, and we knew immediately that this was the kind of place we wanted. We wrote to the owners straight away and said: "we'll get the money, don't sell it to anyone else".
Olle: We liked the area and the venue. It's small, only twenty-eight seats in the dining room and eight seats in the bar, but it's personal and easy to overview.
Why did you name the restaurant after the street?
Sophie: It's quite a funny story. Before we opened, my sister who is very good with interior design, recommended me to open an account on Pinterest, which I did under the name 'Västergatan'. We added pictures and involved people in the process, and when it was time to come up with a restaurant name, my sister simply stated: 'you have already named it Västergatan, stick with that'. We thought we didn't need to make it more complicated.
What was the first thing you did after moving in?
Olle: We wanted to make it our own place. The previous owners had done an amazing job putting the restaurant on the map, but we had to change the interior design in a way that suited our style. With that said, we've kept a few details from Tryne till Knorr, to keep their memory alive.
Why do people choose to come back to Västergatan?
Olle: We serve a four-course dinner called 'Kvällsmat' for 400kr, which is very affordable. We are a neighbourhood tavern with ambitions and want to make it easy and familiar for people by serving good food without complexity.
Ivan at Kv. Åkern said that the word neighbourhood tavern doesn't always evoke the best impression in Sweden. What's your thoughts about that?
Olle: I understand what he means, but I think those associations are disappearing. We want to defuse the restaurant visit and make it more available to people.
Sophie: A neighbourhood tavern should be a place where you feel welcome and comfortable without the pressure of dressing up.
You are a couple as well as running a restaurant together. How does that work?
Sophie: It's intense, but we understand each other and think alike. We don't give it much thought, it just works.
Olle: We are heading in the same direction, which is a very positive thing.
We heard that you are an amazing seafood restaurant. What else do you serve?
Olle: Coming from the west coast, seafood is a natural part of my cooking, but we serve other meats as well. Sophie runs a sheep rearing farm together with her mother and grandfather, so lamb has been a natural part on our menu since we opened. We're also about to begin our own vegetable farming within the family, which will influence what we serve. We're planning on growing our own root-vegetables, kale and herbs. Things that we use daily but that will taste much better if it's harvested the same day.
It sounds like you like local produce? Apart from own produce, where do your get your ingredients from?
Olle: We choose suppliers where we can get good quality things. Kött & Vilt Specialisten supplies us with good products from Skåne, Bondens Skafferi has a great selection of vegetables, Ola at Leröy picks the best from Göteborgs Fiskauktion and we get amazing charcuteries from Alex Charkuteri.
Sophie: If we could decide, it would be spring, summer and autumn all the time in Sweden. We did a wedding last summer for a guy who runs a vegetable farming place called Happy Onion in Rosengård. At the wedding, he only wanted to serve his own vegetables, which is quite a project when you have a party of over a hundred people. We ended up using him as a supplier when we opened and he delivered fresh veg on his bicycle. It was great and we wish we could buy from him all year round.
How do you plan your menus?
Olle: The menus vary after our inspiration and what's available. After everything's done on a Saturday night, we open a bottle of wine and decide next week's menu.
Sophie: The chefs discuss back and forth and make a test run on the Tuesday, and change a few things around on the Wednesday - it's an ongoing process.
Do a lot of dishes stay on the menu?
Sophie: Last autumn we had a popular dish that stayed on the menu for a long time. It was lamb croquettes with meat from my mother's farm, as well as our own grown kale and pickled onions, which made it extra special.
Is there any night that sticks out a bit extra? Any fun memories?
Sophie: The best evening was when Pasteleria 413, a couple of guys from Gothenburg who make desserts while listening to hip-hop, did a guest performance here.
Olle: We've tried to bring Gothenburg with us in our restaurant to avoid getting homesick. We serve beer from west coast microbreweries and play Gothenburg music, like The Embassy, TTA, The Knife, Håkan and Roffe Ruff, on our playlist. And the word has spread to Gothenburg people who visit Malmö. One customer even suggested we should become Gothenburg's embassy here.
Sophie: This is our lives, we're here all the time and need to have fun while working. You cannot work every weekend without enjoying yourself.
Do you work every weekend?
Sophie: We have done since our opening.
Olle: We're fairly new and if you want to start a good business, you have to spend a lot of time to make it work. We will take a few weeks off during the summer though. That's the good thing about being a small independent company - we can decide how to do things.
What kind of coffee do you serve?
Olle: Solde. We have a good relationship with those guys and their coffee is great. They come here and eat with their children, which we love.
How do you pick wines to go with your dishes?
Sophie: It's a bit difficult with wine, beer and coffee. Many have a perception of what it should taste like, but recently a market of microbreweries and natural wine makers have changed that image.
This is a challenge for us, since a lot of people come here thinking they will get a traditional meal because of Olle's background. However, the drink list is not so traditional and we often pick hand-crafted products, made on a small scale with lots of love and with as little pesticides as possible. Sometimes there is a little clash in taste, but it's a fun challenge.
What would you like Västergatan to be known for?
Sophie: We want to serve good food and provide people with a nice experience. Rather than making a fuss over things, we like to work in the quiet, like when we opened and only announced it to our then hundred followers on Instagram. Rather than doing lots of advertising, we like it when we're recommended by people.
What other place in Malmö would you like to recommend?
Sophie: We'd like to recommend a place that is located just outside of Malmö called Hörte Brygga. It's a great place for Malmö people to visit, and it's incredible how many people find their way there considering it's out in the middle of nowhere.
Olle: 'Come and hang out' is their motto, which is exactly what people do there. It's a great hangout place.
---
VÄSTERGATAN
Västergatan 16, 211 21 Malmö
OPEN
Tuesday-Saturday 5pm–10pm
VISIT THEM ONLINE
vastergatan.se