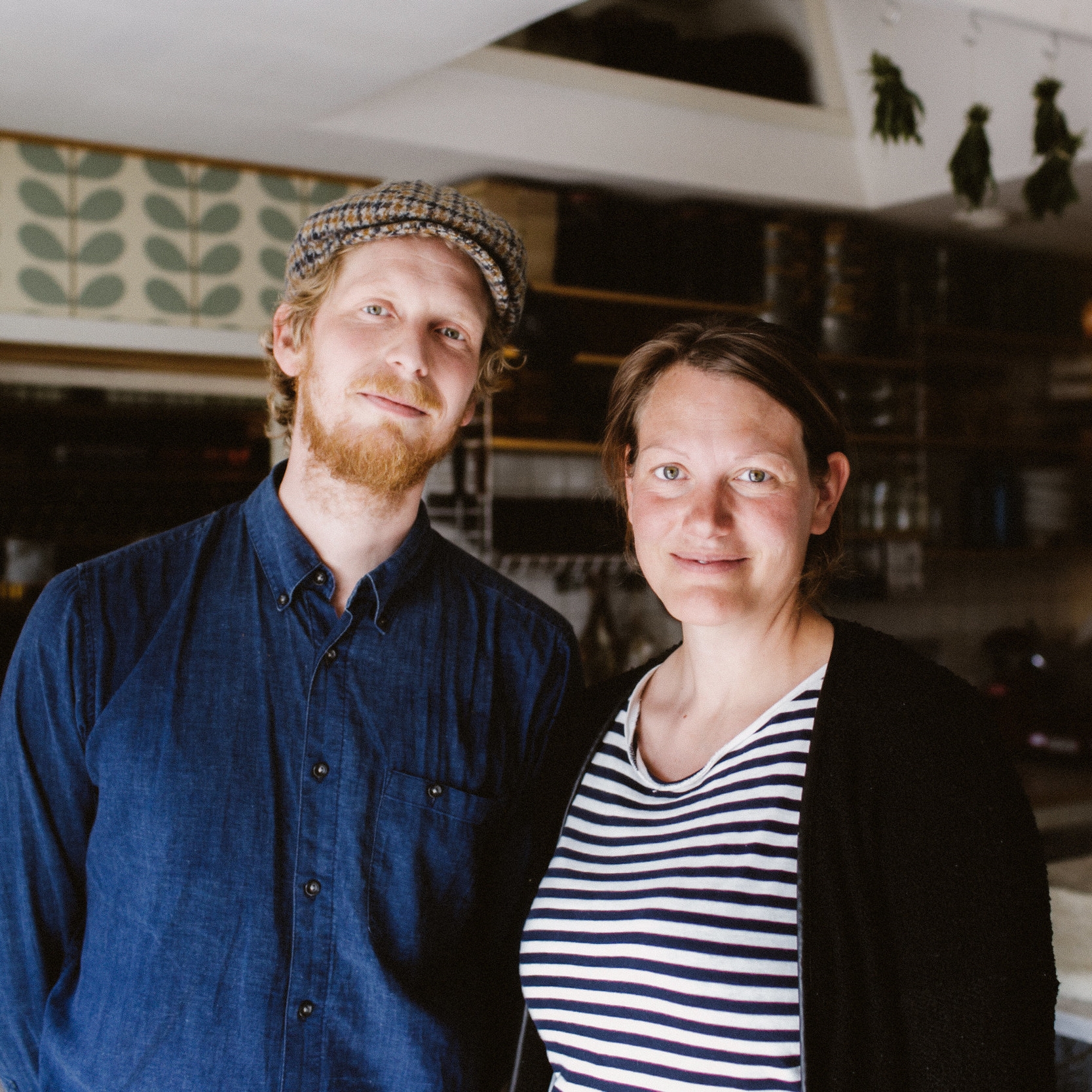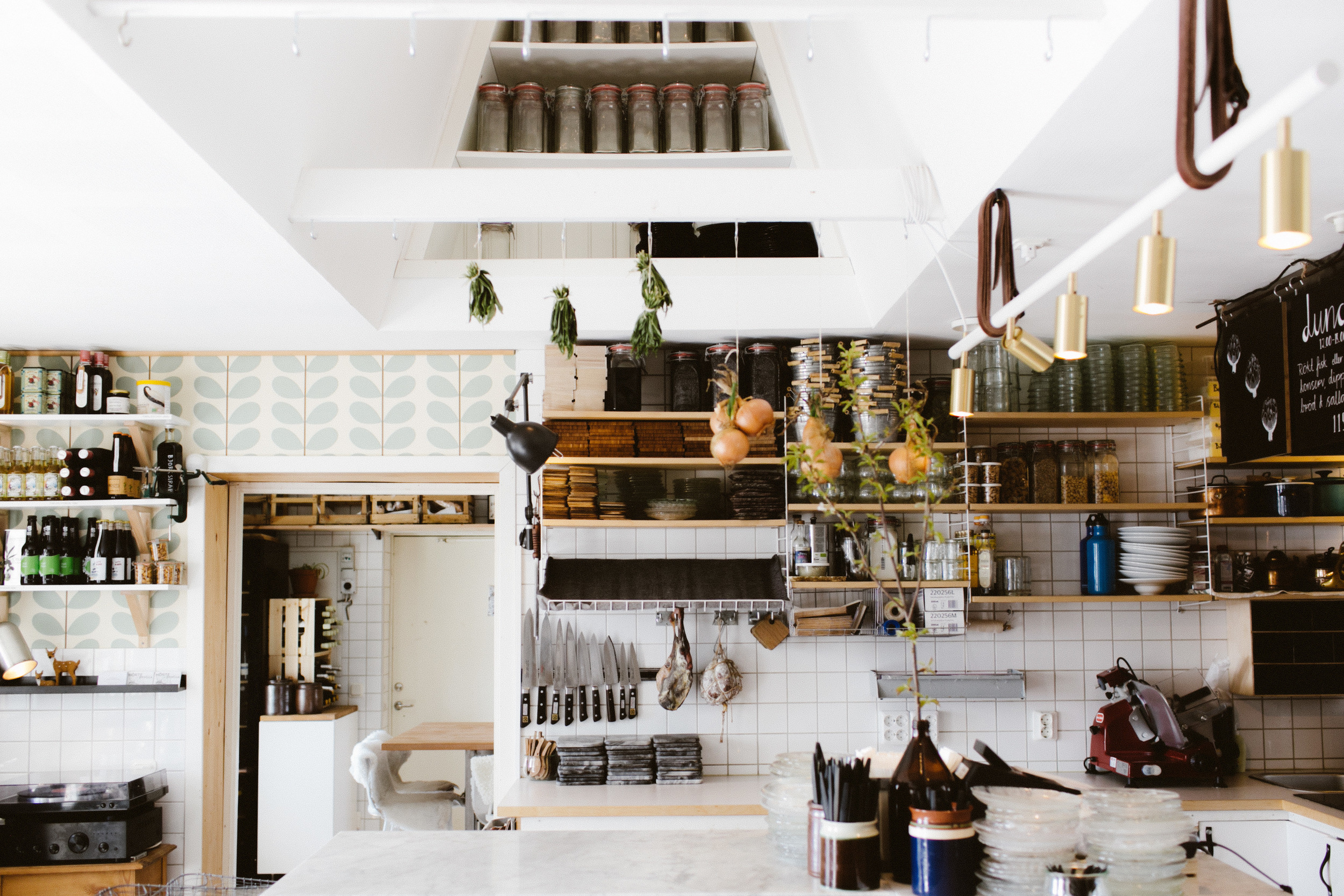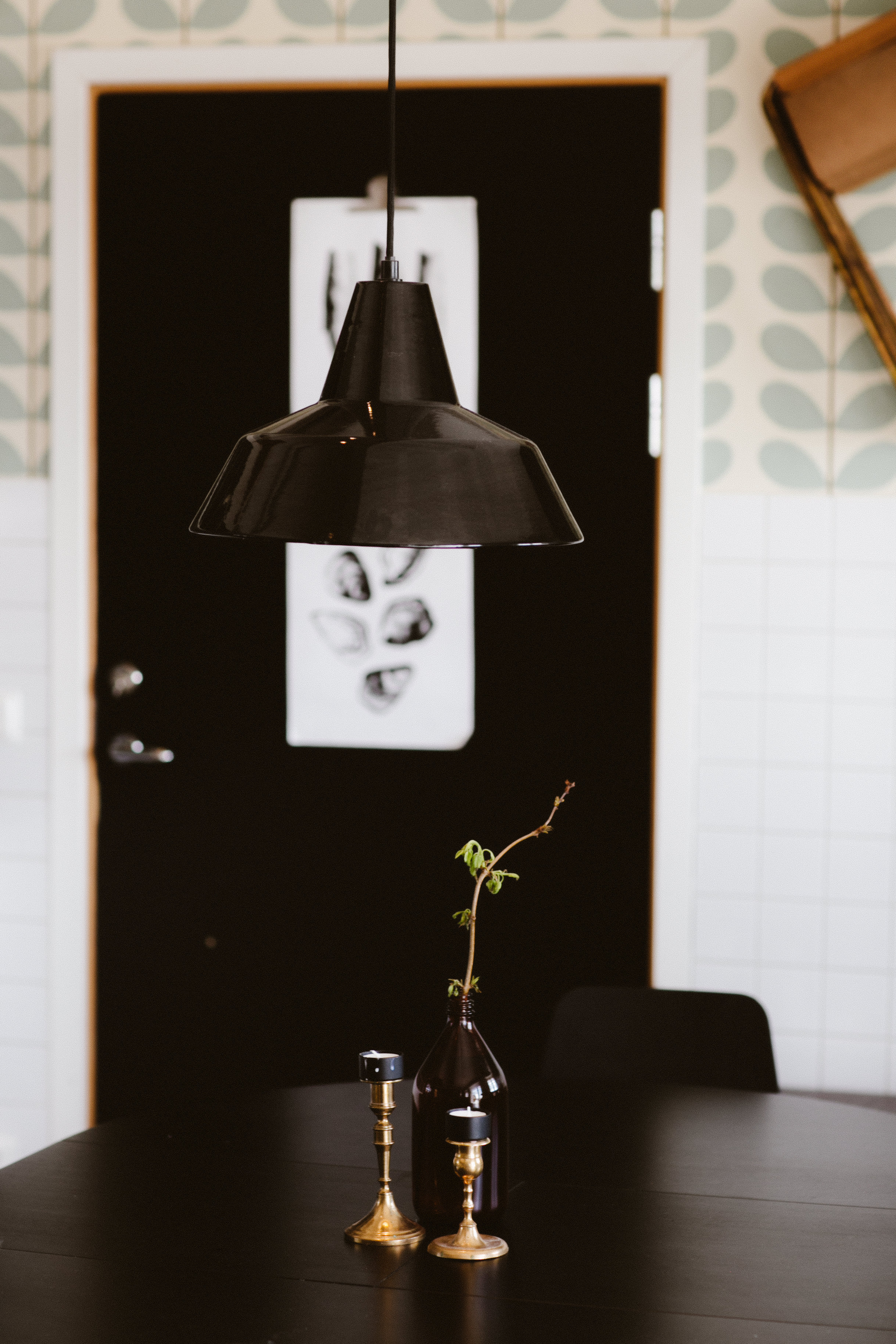 INTERVIEW WITH EMMA ANDERSSON AND MARTIN SJÖSTRAND, OWNERS OF HÖRTE BRYGGA.
There aren't many better ways to enjoy the summer months in Skåne than a visit to Hörte Brygga. Just a short drive south of Malmö and you arrive at this hidden gem, loved for it's quality locally sourced menu, good vibes and a beautiful sea view. We sat down to chat with Emma and Martin on their life as a young family running a growing business.
How would you describe Hörte Brygga?
Martin: The vision was to create a high quality restaurant, but with a focus on being accessible. When you allow people to book months in advance, this leads to certain expectations, which is something we wanted to avoid.
Emma: People should be able to come when they please and that's why we decided not to take lunch bookings, to allow people the opportunity to spontaneously turn up. We've cut back on stiff things like a front of house manager and instead it's more relaxed with everyone standing in line to order.
Martin: Ultimately, we've made a place where we'd want to spend a lot of time ourselves.
Tell us the story about Hörte Brygga
Emma: This is an old eel harbour previously owned by an estate nearby and the restaurant house used to be the old twine house, where the fishing equipment was stored during winter. Today the harbour belongs to a non-profit association that renovated this house in order to make a bit of money. We contacted them after they had renovated the outside, and they gave us the permission to do whatever we wanted with the inside. We've been running this place since 2014.
What are your backgrounds?
Martin: We've both worked in the restaurant business since the age of sixteen and have a substantial background within food, drink and hospitality. Emma grew up in Ystad and I'm from Karlskoga in Värmland, which is a not a very exciting place when it comes to food. In order to pursue my passion I had to move to where the good restaurants were, which I did the day after my high school graduation. The first stop was Gothenburg, where I met Emma, and since then I've worked at several restaurants in places like Stockholm, Jämtland and Gotland before finally moving down here.
Emma: I studied to become a sommelier back in 1999, a time when nobody here in Sweden knew what that was. I've studied for seven years in total, with the foundation at Wine and Spirit Education Trust in London.
Martin: We've worked at many highly rated restaurants in Sweden, but felt the need to strip back how we do things here.
Emma: Some things you can do in a simpler way. Less is more, as they say.
You are a couple as well as business owners. How does that work?
Martin: The main reason for opening this place was that it would work for both us and our children. We love to work - food and drink is our biggest passion - but working for someone else on evenings and weekends doesn't leave much time for family. We've created a place that compliments our lifestyle, because running a business, just like family, is a full time gig for us.
Emma: You do a bit of work, play with lego for half an hour, then do some more work…
Martin: We do bits and pieces all the time, which means that we work all the time and are free all the time. That was the original idea when we rented this place. It's hard work, as in all relationships, but it works.
How would you like your children to experience this place?
Emma: I grew up in a family that owned a flower shop, and thought it was wonderful to be alongside my father as he was making arrangements. I'd love my children to have the same experience and to feel like they're a part of all this.
Martin: It would be magical if they enjoyed it. They get to meet all kinds of people, everyone from crazy people to ordinary people, and it's a fun environment to be in. I'm quite certain they feel at home. If we're out eating somewhere, our son Henry walks straight into the kitchen, regardless of who the owner is.
Emma: We got this place around the same time Henry was born, which means we built everything with a baby in tow. When Ilse came along, we were working with the building permit for the open-air seating and had to bring her to all the meetings. It's great to be able to do both at the same time.
Martin: We don't want to differentiate what we do with the children and what we do without them. We're a part of their lives and they're a part of ours.
How does a typical year look like to you?
Emma: We exist all year round, but are closed in January and February in order to plan the rest of the year. Otherwise we're open for bookings and dinners.
Martin: Then we do lunches from May and all throughout the summer. We also take bookings for dinners and smaller parties where you can have the place to yourselves.
How does your menu work?
Martin: We follow the seasons, which dictates which food we serve. In spring and summer, a typical dinner consists of ten to sixteen different dishes. During autumn and winter, we serve fewer, but bigger size dishes. We work with 'blind menus', which means that it will be a four-hour eating experience and where every new dish is a surprise. Since the kitchen is integrated within the dining area, there is always a good home-feeling. We really enjoy these dinners.
You cook food in front of your guests. What's the thinking behind that?
Martin: We want to make visible what we do instead of hiding in a kitchen far away. As a chef, I think it's much nicer to cook in a bright, nice room with a good record playing, rather than in a basement with artificial lighting. I like this way of working, even if it's not always the most practical way.
What is the thought process behind the drink list?
Emma: We want to serve good drinks that are produced in a sustainable way with future generations in mind. When it comes to wine, we focus on organic and biodynamic products, as well as natural wines. The wines might have a different taste profile to the commercial wines that people are familiar with, but it feels so right to work this way.
Martin: Recently both of us have started to learn more about beer and this year we have made an effort to serve beer from local breweries. It turned out there are quite a few nearby, and we've tried to visit as many breweries as possible, in order to understand the thinking behind their beers. We don't want to just sell a beer, we want to share the thought behind it as well.
What kind of coffee do you serve?
Martin: Since neither of us are a barista, we had to find a way to serve good quality coffee to all our customers, even on a good summer day when nearly two hundred people might turn up for lunch. Instead of ruining the whole experience with burnt cappuccinos, we decided to simplify it and supply all our guests with really good filter coffee. We're working together with two different roasteries, Solde and Söderberg & Sara. The guys from Solde are good people to work with and their coffees are fantastic. Per and Tilde from Söderberg & Sara normally only roast coffee for themselves, but we happened to mention once that we wouldn't mind a 'Hörte blend', and before we knew it they had made one for us. We always have two thermoses with one brew each - and we trust both companies completely.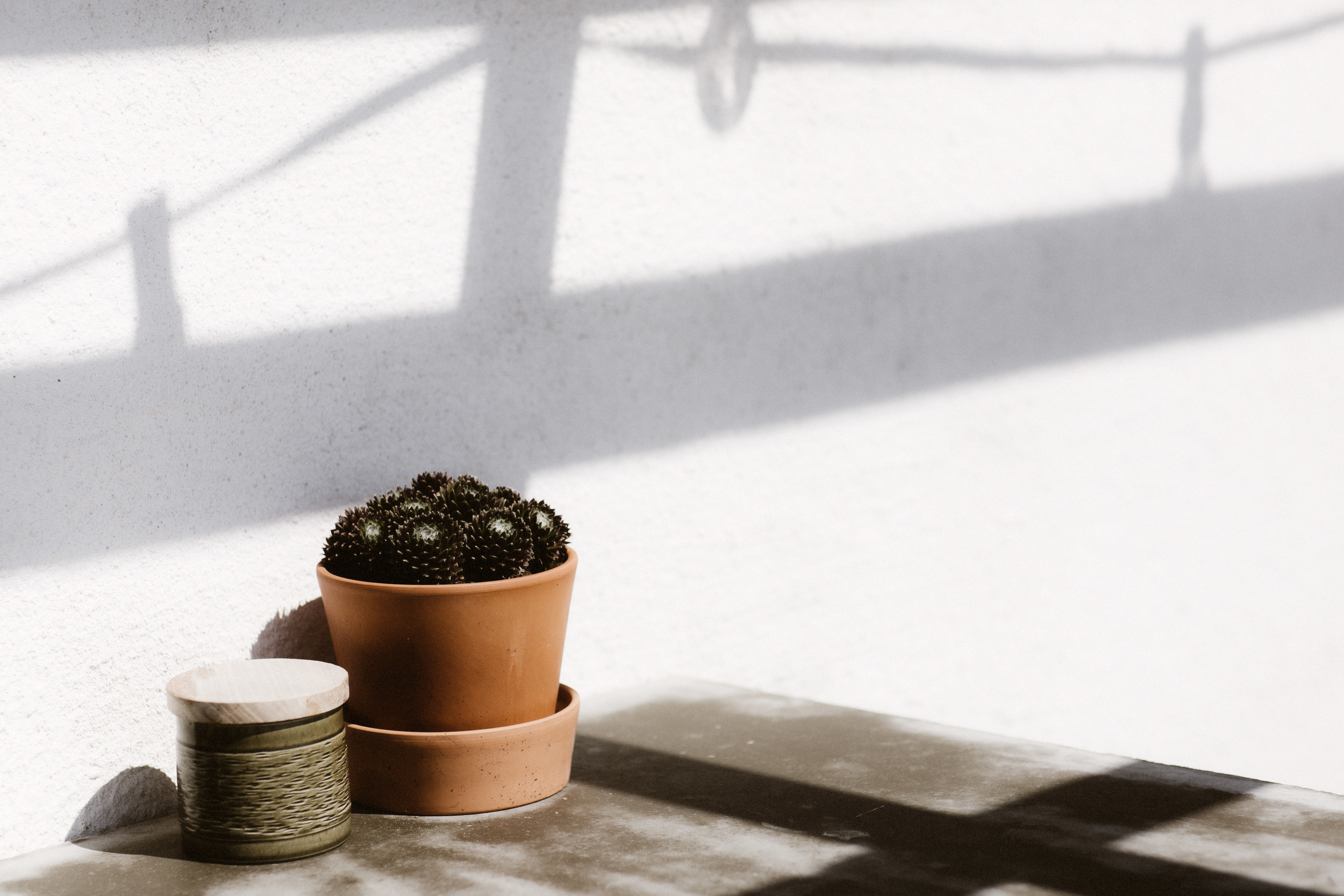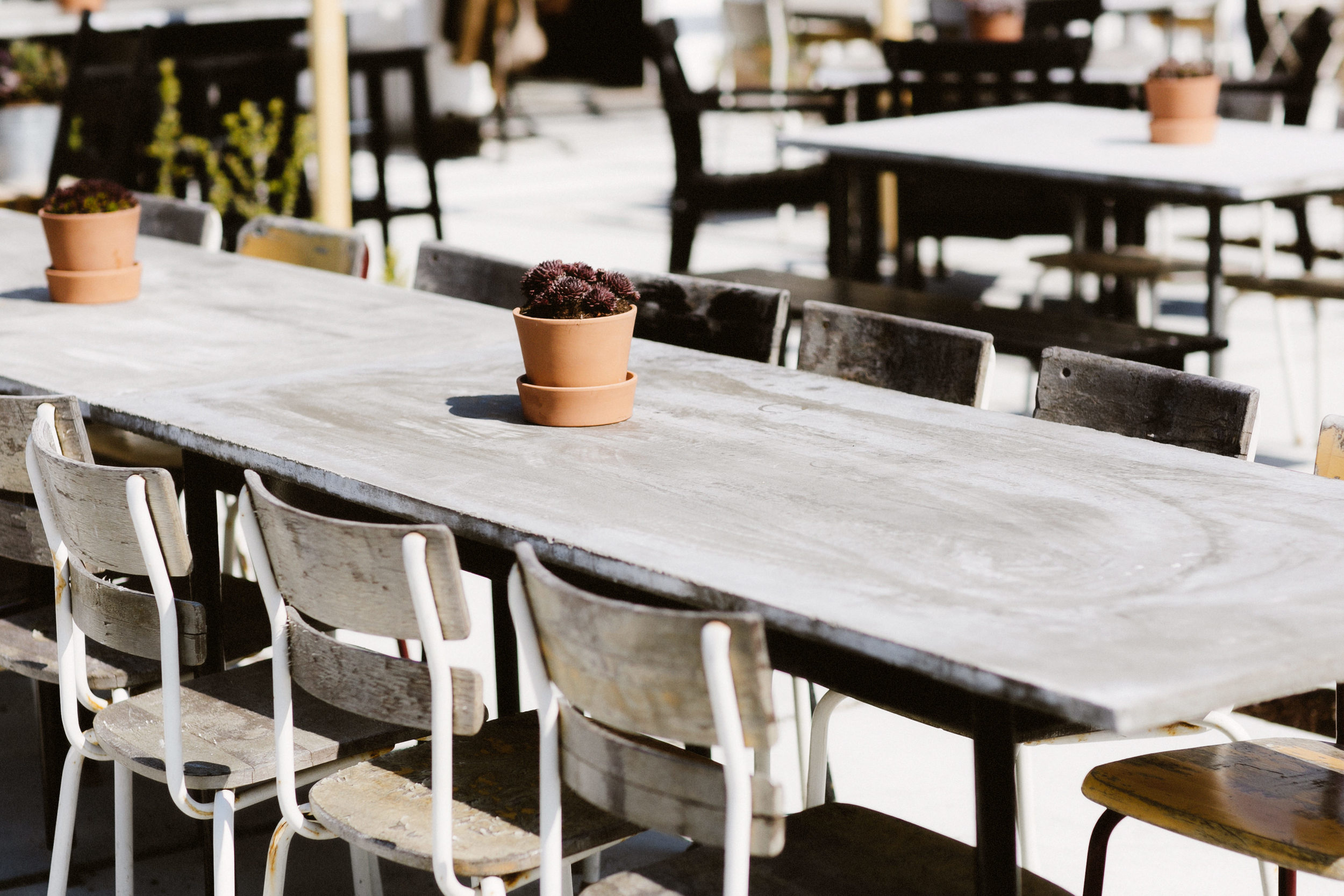 How do people find their way out here?
Emma: We built this place thinking it would be just us working here. Then it just exploded without us doing any marketing, which is quite amazing in itself - it's just spread by word of mouth.
Martin: My theory is that if you create something authentic and to a high standard, it will spread organically. Our restaurant is built on a good reputation, which is gained by people being recommended by someone they trust. And it helps to have an instagram-friendly sea view…
How does it work on a rainy day?
Emma: Really good. Last summer was a great example.
Martin: We have twenty-four seats inside, and on a rainy day last summer, we still did ninety lunches in a day. We just have to tell our guests to have something to drink while waiting, or we build more tables out of boxes. We'll find a way one way or another. We're currently in the process of building a rain shelter outdoors, which will make it even easier.
You have created a beautiful place. What's the thought behind the interior design?
Emma: I enjoy the challenge of creating a unique environment. The experience in visiting a restaurant is not just to meet people for a meal, everything that surrounds you helps create a wholeness. We have the advantage of having worked within the business for a long time; we've learnt how to operate in the kitchen and how to make it work in a small space. With that said, we wanted to create a relaxed environment, where people feel at home.
Martin: Emma is really talented in this area and has clear visions of what she wants. Sometimes it takes a long time to get things right, but the result is always good. She rearranges the fixtures until perfection is reached and can spend ages buying a whole set of coffee spoons on Tradera, a couple of spoons at a time. It's impressive.
What's the best thing about being in this location?
Martin: Being close to the producers and the source of our ingredients, and just the fact that people here help each other out. People in the area like us being here, for example, one neighbour who is a regular here supplies us with apples from his own garden. Another good thing is that people have to travel to come here; they aren't just passing by. Because they have intentionally invested time to come here, we usually are afforded the opportunity to share our vision with our guests.
Emma: I'm still amazed how relaxing it is to walk down this road. We're here everyday, and we can be very busy, but I never feel stressed out. I love this place and can honestly say I'm proud of everything we do here.
You've been running this place nearly two years. Is there a day that sticks out as a highlight for you?
Emma: During peak season last summer, we had a guest bartender here a couple of evenings. The first evening was magical - it was sunny, we had music on full blast and he was standing in the middle shaking cocktails. People chilled out and had a great time. To me, that was pretty perfect.
Martin: Another good memory was the end of last summer's season, when we made a long outdoor table seating forty people. There were several different bookings, but people sat down all together, we played good music and Ivan from Kv. Åkern was here making a hog roast. It was the last good summer evening and the atmosphere was great. There was a great mix of people of different ages and it was like a social roulette taking place. People made new friends and the whole idea about Hörte Brygga became so visible.
Why should people from Malmö travel to Hörte Brygga?
Martin: It's a great place to be, what else do I need to say? It's easy to travel here, even if you don't have a car, and when you come around the corner from the road - something happens. The nice harbour with old boats have a calming effect, you can just relax and enjoy something nice to eat and drink. It's a nearby break from city life.
What other place in Malmö would you like to recommend?
Martin: There is one place not many people have discovered yet, but people would do well to visit. It's called Blå Båten, run by two guys called Linus Höök and Valle Westesson. Within the concept 'creative', this is probably one of the most creative places to visit in Malmö.
---
HÖRTE BRYGGA
Hörte Hamn, Dybäck 465, 274 54 Skivarp
OPEN
Thursday-Sunday 12:00-16:00
Check website for special events
VISIT THEM ONLINE
hortebrygga.se