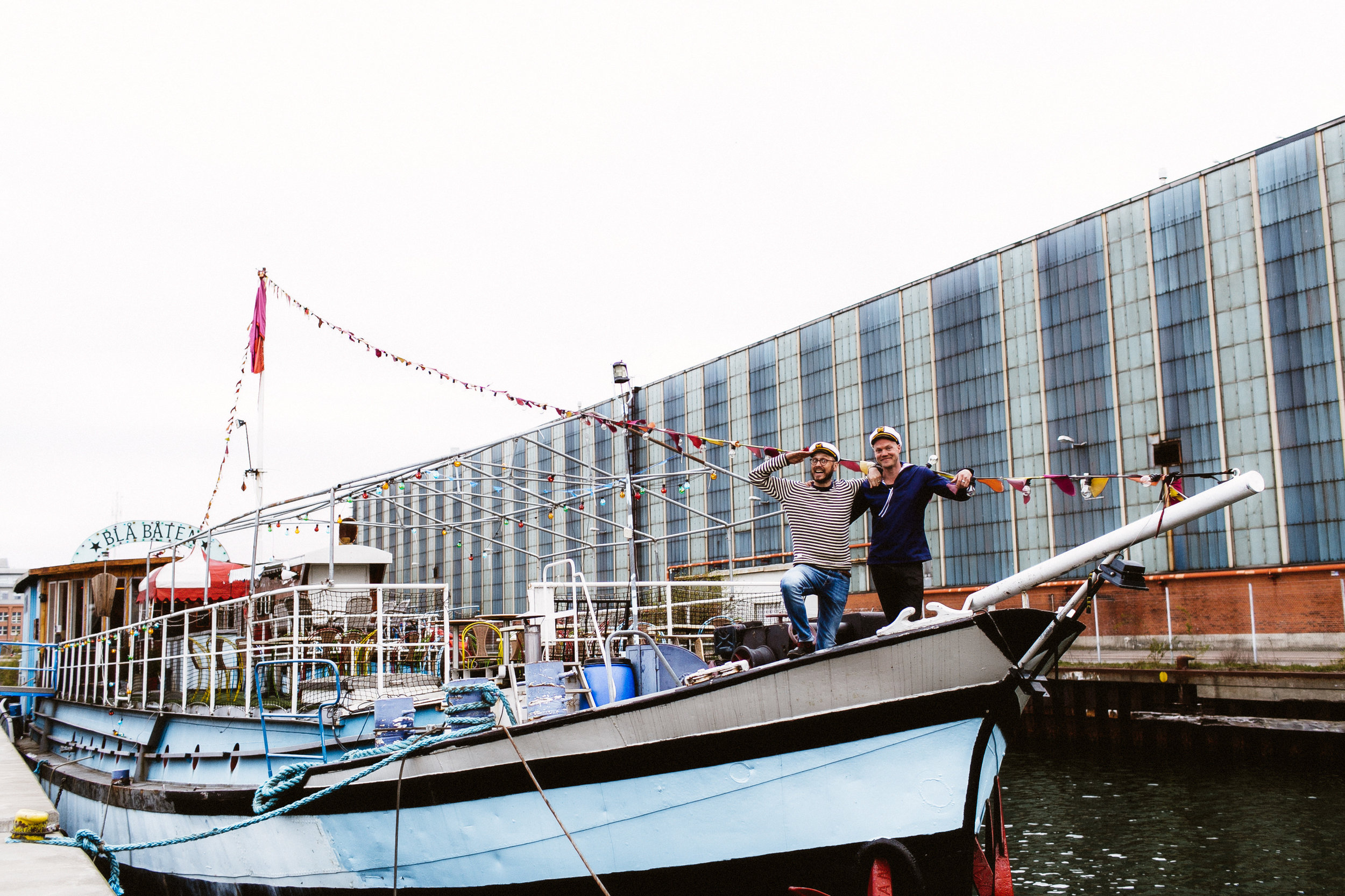 INTERVIEW WITH LINUS HÖÖK AND VALLE WESTESSON, OWNERS OF BLÅ BÅTEN.
Blå Båten is one of the more unique cultural venues in Malmö; in fact, until its recent relocation some considered its berth a secret spot. The boat is the vision of kindred spirits Linus and Valle, whose mission it is to create an unforgettable night for every guest who steps aboard. We sat down with the captains of the ship to get a better idea of its origins and chartered course.
What´s the vision behind Blå Båten?
Valle: It's a venue for cultural experience. We open up our stage for all types of shows, it can be anything within art, film, music, poetry, comedy, theatre, as long as it's something special and something we like.
Linus: The idea we had from the beginning was to create a platform for bringing people together, facilitating all different types of cultural events, as well as hosting private events and conferences.
You've been running this ship since 2014. How did it all get started?
Linus: I'd been running another boat called Tintin for the past four years, and that's where I met Valle. He was inspired and thought it would be great to have his own boat, so when the former owner of Blå Båten retired he asked us if we wanted to buy it and 'continue the legacy'. We immediately said 'let's do it!', and thought we'd at least try to run it for a year to see how it goes. It turned out to be a lot of fun.
Valle: I was working on a book called '100 balla ställen i Skåne' ('100 cool places in Skåne'), and went to Tintin to check it out. I was really impressed with Linus and his business, and ended up spending a lot of time there, so much so that my wife got sick of me talking about 'Linus and his boat' all the time. Eventually she said: 'just buy your own boat and stop talking about it', and we literally had an offer to do so a few days later. My father used to be a sea captain, and when he passed away I received an inheritance that made the purchase possible. It felt right to use the money to buy a boat.
What did you work with before getting into the boat business?
Valle: I'm a comedian and writer that had been working with TV, radio and stage performances for 15 years.
Linus: I worked at various newspapers from 2001 and started freelancing in 2008, all the while writing and doing photography on the side. Then I approached the bank about granting me a loan to buy a boat. I've always felt that boats are magic places where you want to hang out and spend time, so I decided to create that kind of environment with my first boat Tintin, combining it with a cafe business. The rest as they say, is history.

Are there any special challenges in running your business?
Valle: A big challenge is the ship itself, as it's more than 120 years old. The hull is made of clinched steel, which rusts and every now and then and we have to take it to the wharf for repairs which is an expensive exercise.
Linus: The continuous maintenance is a financial challenge. However, if it was too easy then there would be room for complacency. It's the challenge that keeps us on our toes. We could do this on land, but that wouldn't be half as fun. We don't focus on maximising our profits, we rather aim to develop our vision for the boat. It's a lot of hard work but it's worth it.
How much has Blå Båten changed since you became owners?
Valle: We continued the idea of picnic shows and private events, but also felt the need to make it our own place. We redecorated it to try and emulate the feeling of a Parisian theatre from the early 1900's, which is an ongoing project. We have more in the plans but it's a process.
Linus: We both have an unhealthy habit of hanging out at auctions and flea markets...
Valle: ...and finally we have a place to stuff all the things we buy.
Linus: We also revamped the programme and variety of events taking place. The former captain had almost only music events, but we've made a broader program by including more cultural arts. We have a great mix of shows, the only prerequisite is that you perform something that's your own, or something you've transformed. We don't book cover acts.
What does Blå Båten add to the city of Malmö?
Valle: Apart from being a place where you can bring your own picnic, it's also an alternative cultural venue. A state owned cultural house isn't allowed to have 'dirt in the corners', either in the venue or in the programme. Since this is our own, personal cultural house, there are no restrictions.
Linus: It's a playground for the cultural arts. The low stage creates a rare intimacy where the audience and acts come together, which is the best way to experience live culture. It helps the performer feel like an old school rock star, even if they're a poet.
Valle: There's no fence or line in between the artist and audience, they sit in the same boat, literally. You come together in another way, which is exactly what we want when guests walk over the gangway.
Linus: It's like the same feeling as inviting people into your tree house, they think 'Oh my God, I'm climbing up to a secret spot with all these people'. We might not have a tree house...but we have two ships and a bus.
What's the most rewarding thing about running your business?
Valle: I enjoy the feeling of prep work: booking the artist, doing the marketing to let people know that this great performance is going to happen, and even those hours before the show when we are stressed out making everything ready. When people arrive you can sense anticipation rising, but we can relax knowing that all these guests are going to have a great night. We've never had a show that's been a failure, and the response is almost always positive. It's satisfying to stand aside as a host and see a hundred people experience a highlight of their year.
Linus: It's the same for me; it's all about creating an ambience, from the interior decoration to facilitating the performances. I've been running events on Tintin as well, but it's even more fun to do it with someone else where we can bounce new ideas of each other. Valle had a wild idea recently to extend the entrance and make it round to create more space and it turned out great! It can be a fantastic party downstairs, but some people just want to hang around the entrance talking, so long as people come together it's fine!
What's the weirdest event you've ever had here?
Valle: We can't tell you, haha. We promised it has to be a secret, which is a pity - it's such a great story. What's the craziest thing we can tell? Malmöfestivalen last year was, maybe not the weirdest, but we had 30 acts in 8 days, and we counted 5000 coming through and watching new shows. Not that weird, but it was a circus. We had the comedian Jesper Rönndahl doing a show where he planned to show funny pictures from his vacation. We had a limit of 150 onboard, and another 100 people on deck, but the boat filled up an hour before, and the whole queue was full of people wanting to join the show, so we decided to bring out some big speakers to include them as well. He had to explain the pictures to the people outside before making a joke, which only added to the comedy. After everyone had left, there was a desert of empty crisp bags and beer bottles.
Linus: We've also had some great cultural acts, not so weird but great. For example, the poet and musician Mattias Alkberg did an exclusive show for us merging his two art disciplines. It encouraged us that we could dare to approach and invite bigger and more well-known names like Mattias.
What kind of people come here to your boat?
Linus: People of all ages. The heritage from the former owner was an ageing crowd, fifty or older, and a lot of them still come. Then we've been attracting an audience our age which has created a great mix of generations and backgrounds. A lot of people make new friends onboard.
What type of acts do you have here? Are there generally locals?
Valle: Half are local, from Malmo. The rest are mainly from Sweden, but with that said, we actually had a French jazz band playing Orleans jazz here recently, and a Danish blues band.
Linus: As long as we can work it with their tour dates. Most venues don't do things on Tuesdays, which makes it easier to book people.
You run the event 'Tisdagsklubben', a Tuesday night event. What's the idea behind this?
Linus: We started in February, and will start again on September 27th after a summer break.
Valle: The idea was to take the most boring day of the week and make it the most fun and affordable night for everyone. The entrance fee is 100 sek, with bread included. There is a Roman expression 'Bread and circuses', which is this theory that if you give people food and entertainment they can put aside politics and enjoy themselves. You can trick people into anything if you give them these two things. That's what we give to the people.

---
BLÅ BÅTEN
Hjälmarekajen, 211 19 Malmö
OPEN
Check website for current program
VISIT THEM ONLINE
blabaten.com